ROCK THE BOAT 2020 IS HERE!
CELEBRATING 10 YEARS of rocking the high seas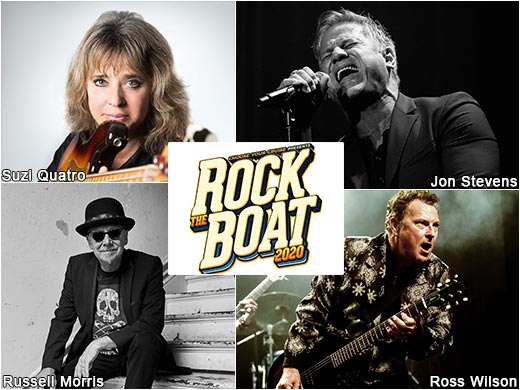 Celebrating 10 incredible years, Rock the Boat returns for its biggest Rock music festival at sea in 2020, showcasing the best of rock artists from a colorful decade of past cruises.
Rock the Boat 2020 is set to be one of the biggest releases of any music cruise to date. Following the overwhelming success of Rock the Boat 2019, which sold out in record time late last year – leaving hundreds of disappointed music fans without a ticket on board, have a very special cruise to celebrate ten years of Rock the Boat. 
Due to popular demand, and for the very first time, American Rock legend Suzi Quatro will be headlining for her second consecutive year! The Wild One will be performing alongside 28 Rock artists who have helped pave the way making Rock the Boat what it is today.  Now is the time to get on board to see Suzi in 2020.
What's included in the holiday price
Cruise on board Royal Caribbean's "Radiance of the Seas"

All meals, entertainment and gratuities on board (excluding drinks and specialty restaurants).

Port charges and government taxes Costs are per adult in $AUD and are based on a twin sharing basis.
Setting sail from Brisbane onboard Royal Caribbean's Radiance of the Seas for 7 spectacular nights from 24 November – 1 December 2020, Rock the Boat 2020 celebrates a decade of voyages with a celebration that will be unlike any cruise ever before.
Interior cabins from  $2,799 per person*

Ocean view from    $3,549 per person*

Balcony from     $4,199 per person*
Itinerary 
Day 1: 

Brisbane,

Tue 24 Nov 2020 Depart 4:30 PM
Day 2: 

At Sea

Wed 25 Nov 2020
Day 3: 

At Sea

Thu 26 Nov 2020
Day 4:
Isle o
f Pines

Fri 27 Nov 2020 8:00 AM to 5:00 PM
Day 5: 

Noumea

Sat 28 Nov 2020 Arrive 8:00 AM
Day 6: 

At Sea

Sun 29 Nov 2020
Day 7: 

At Sea

Mon 30 Nov 2020
Day 8: 

Brisbane

Tue 1 Dec 2020 Arrive 6:30 AM
*Terms and conditions: All prices are in AUD based on twin share, and subject to change until confirmed. For further information on restrictions please speak with your advisor at The Cruise Centre. Cancellation Fees  Notice of cancellation and complete name changes must be made in writing to The Cruise Centre. One complete name change is permitted and will be charged at $250 as long as one of the original passengers are still travelling in the cabin. If none of the original passengers are travelling, then full cancellation fees will apply. The following scale of charges will apply when notice of cancellation is received prior to holiday departure. Artist line up is correct at the time of printing and is subject to change. In the unlikely event that any band / performer cancels or cannot fulfil their performance obligations for any reason, there will be no refunds. The ticket is for the cruise experience as a whole, not the individual acts. 
Booking Changes, Cancellations and Refunds It is strongly recommended that all guests take out Travel Insurance for this holiday.  Certain cancellation fees apply to your holiday if cancelled after a deposit or final payment has been made. These cancellation fees will be levied by the shipping company and will be greater the closer to your travel date that you cancel.  Booking Changes: a fee of $25 per person will be charged for any revision or alteration made to a reservation after the booking is confirmed unless the change increases the value of the booking. Please note that this does not apply to complete name changes or cabin downgrades which are considered cancellations and full cancellation fees apply as per the below table. Please note that one of the original deposited guests must remain in the booking at all times.