Tasmania's natural beauty is captivating, its cultural experiences are diverse, and its food and drink offering is enviable. The capital city of Hobart is home to one of the world's most intriguing art galleries as well as a fascinating convict history. Get a true taste of Tasmania in its fresh apple cider, cheeses, wine and oysters, and experience a dose of its serenity with its powder-white beaches and laid-back luxury. Looking for adventure? You'll find that here, too. Hiking in Tasmania is world-class, with towering mountain peaks, dense forests, serene lakes and thundering waterfalls, with plenty of wildlife along the way, too.
Tasmanian Arts and Cultural Expereinces
Tasmania has a rich arts and craft life with world-class museums, art gallery's and local designers. You will find amazing arts and cultural experiences in Tasmania. There's everything from small artist-run spaces to world class museums, cutting edge contemporary art galleries and festivals for almost every possible interest.
There's also a strong live music and theatre scene with everything from a world class symphony orchestra to underground acts and performance art. Wherever you go in Tasmania, there are inspiring art works to be found – even where you might least expect it.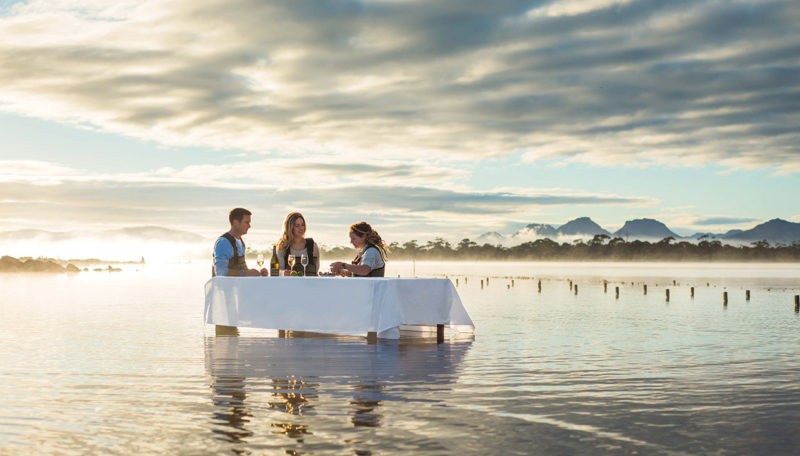 Food and Drink
Tasmania is a great place to learn about and try fresh produce. You can find it at farmers markets and in local eateries, from cheap and cheerful pubs to high-end bars and restaurants. The island state produces an astonishing array of excellent produce, from beer and berries to pork and pinot noir.
Foodies can learn how to prepare amazing plates at cooking schools, pick fresh produce straight from the source and sample excellent dishes and produce at food festivals and master classes.
Tasmania's quality food and wine attract foodies from all over the world, so why not join them for a delicious taste of the island state?
Nature and Wildlife
Beautiful landscapes, unique animals and plants and a rich diversity of sea life make Tasmania a treasure rove of natural beauty.
Being a compact island, it's easy to access its many different environments – from alpine ranges, wetlands and grasslands to coastal heaths and vast temperate rainforests.
The island's landscapes were shaped by previous ice ages and many of Tasmania's plants and wildlife are living evidence of the breakup of the super-continent of Gondwana, millions of years ago.
For the nature lover, there's plenty to discover in Tasmania.
Top 10 things to do in Tasmania
* Cradle Mountain * Port Arthur * Freycinet Peninsula * Maria Island * Gordon River * Bridestowe Lavender Estate * The Nut, Stanley * King Island * West Coast Wilderness Railway * MONA